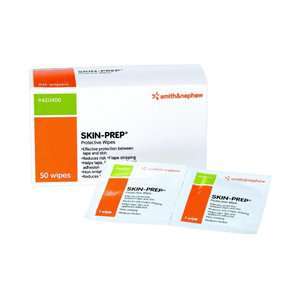 ---
Description
Skin-Prep is a liquid film-forming dressing that forms a protective film to help reduce friction during removal of tapes and films.
Skin-Prep can also be used to prepare skin attachment sites for drainage tubes, external catheters, surrounding ostomy sites and adhesive dressings. Helps tape and film adhesion.
Skin Prep applies easily, even on awkward areas and moves naturally with patients' skin and won't crack or peel. Best of all, the Skin Prep wipes allow your skin to "breathe" so tapes and films adhere better. The wipes may increase intervals between dressing changes. The Skin Prep also protects fragile skin and reduces adhesive removal trauma.
This product is
Good for:
Travel
Sensitive or damaged skin
Tags